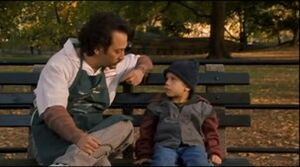 Nazo
is an Indian delivery guy who works at an Indian restaurant. He is shown to be friends with Sonny Koufax. He is played by Rob Schneider, who may have been close friends with Sonny's portrayer, Adam Sandler. Despite being a delivery guy, Nazo is illiterate and is later practiced by Sonny to read the words Fish, Pony and Hippopotamus. Failing to correctly read Hippopotamus, he yells at Sonny that he gave Julian easier words.
Section heading
Edit
Write the first section of your article here.
description
Edit
he doesn't know how to read because of the scene with Julian because he can't read hippopotamus
Ad blocker interference detected!
Wikia is a free-to-use site that makes money from advertising. We have a modified experience for viewers using ad blockers

Wikia is not accessible if you've made further modifications. Remove the custom ad blocker rule(s) and the page will load as expected.